Getting Ready For Camping Season: Tent, Camper And RV Spring Preparation
Using seasonal camping checklists will keep you camping like a pro all year long!
CAMPING SEASON IS COMING! Are you ready?
Our simple tips and FREE printable checklists help you stay organized as you get ready for camping season whether you are camping in a tent, camper or RV motorhome! 
Psst we're compensated…see our disclosures.
Get Ready For Camping Season
Keep summer camping fun by getting your equipment ready in the spring!
---
How To Prepare For Tent Camping Season
Equipment used in tent camping is on the simpler side, so preparing for the summer camping season tends to be easier.
---
Clean And Inspect All Gear
We unpack our gear and clean everything with a mild detergent and check for condition and functionality that might cause issues.
---
Fuel Tanks Cleaned And Inspected
If you use a lot of camping propane on your trips … you'll want to make sure your equipment is in good condition.
We have tips on how to check your propane tanks safety and what to do with empty 1lb propane bottles if you need to dispose of them.
---
Fabrics Cleaned And Inspected
Wash and thoroughly dry your gear made of fabric.
Inspect for holes or worn spots.
Make sure to wash your sleeping bags, blankets and pillows too.

You want to avoid tent and tarp leaks in rainy conditions, so this is a good time to apply Waterproof Sealant to the seams.
Seam Grip WP Waterproof Sealant Adhesive
&
---
Ropes And Fasteners Checked
Avoid using frayed ropes that reduce the strength of tie-down capacity.
Replace raveled and distressed fasteners with new ones.
Anytime I have a chance to use Glow-In-The-Dark Paracord, I do … even when we are camping in our RV!
After the sun goes down, tripping is one of the most common hazards and can usually be avoided with a slight bit of illumination.
&
---
Batteries Replaced Or Recharged
There is nothing worse than having a dead flashlight when you need to see around a dark campsite.
Replace or recharge batteries in your lights, radios, GPS units and other battery-powered gear.
If your gear is old and unreliable, it may be time to invest in a few new camping lights that can run on solar power and are dual purpose!
---
Cooking Equipment Cleaned And Seasoned
Wash and thoroughly dry your cooking utensils and equipment.
Also, verify your equipment is in working condition and check for rust … this is especially important for cast iron skillets and Dutch ovens that were not properly oiled and maintained for storage.
Check out our Cleaning And Seasoning Cast Iron Dutch Oven Cookware post for more tips!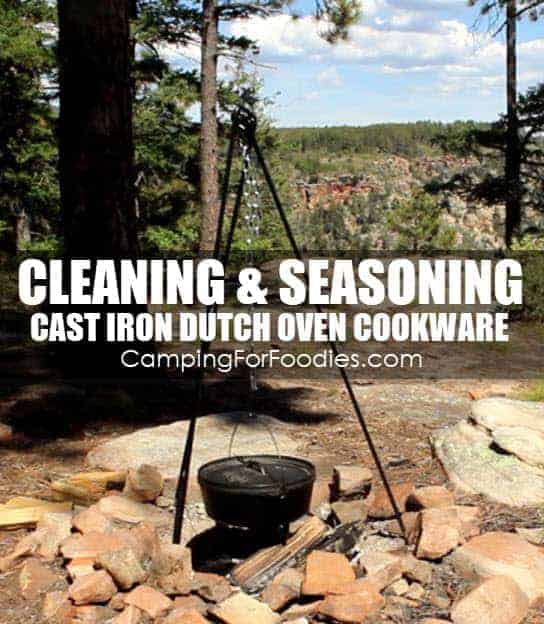 ---
Necessary And Optional Gear Packed
It is easy to forget to pack something in your tent camping gear box if you are packing from memory.
Using our FREE printable Ultimate RV And Tent Camping Checklist will ensure you don't accidentally leave gear at home.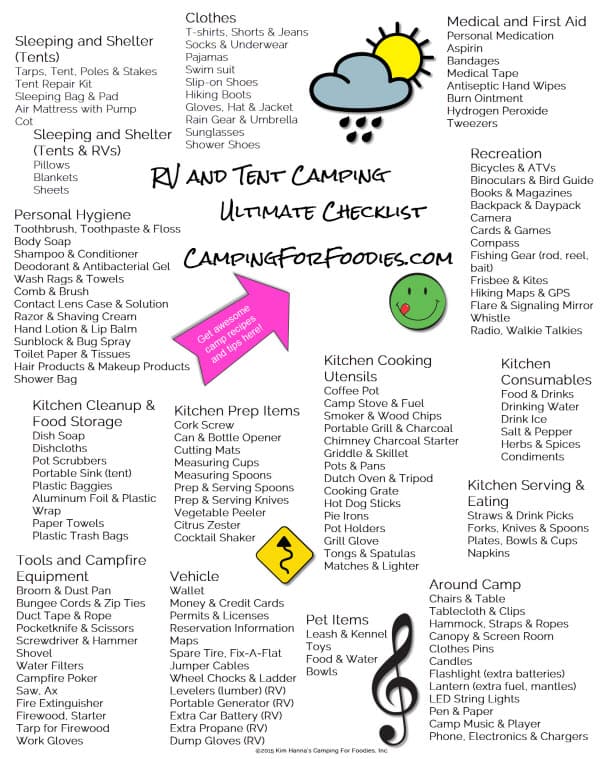 ---
RV Spring Preparation: Getting Your Camper Ready For Summer
There is a bit more involved for RV-ers when getting ready for the season, mechanically speaking.
We've got RV tips and hacks to help you with storage, organization, trip planning and more.
Whether you have a towable travel trailer or drivable rig, there are additional things to consider.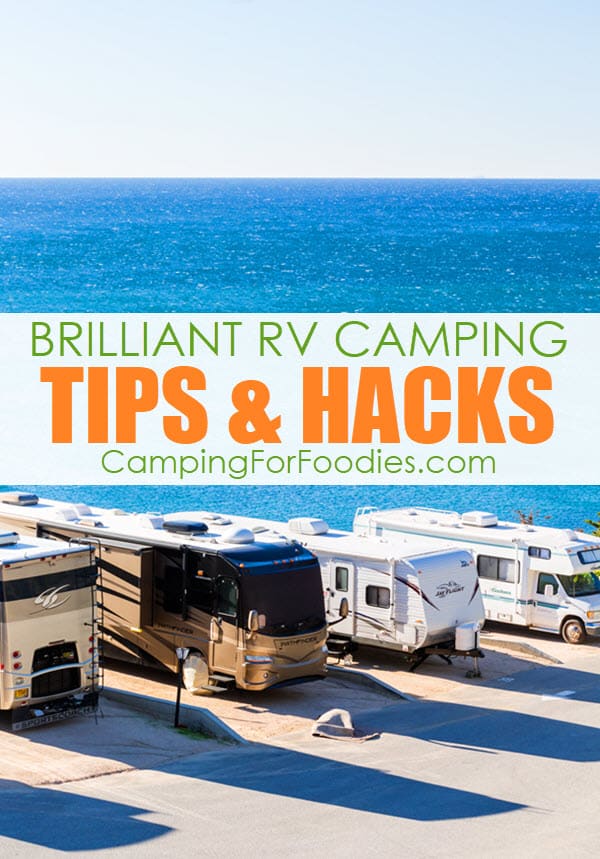 &
---
Wash Your RV
Washing the exterior and interior of your RV allows you to clean it and do a basic visual inspection at the same time.
And really, who can stand going camping in a dirty RV … yuk!
---
Opening Your Camper In Spring
How to open a camper for the season depends on if you have it winterized with antifreeze or if it is just in storage without it.
If you need to de-winterize your RV, you want to flush the fluids first.
---
De-Winterize Your RV
Generally speaking, here are the steps to de-winterize an RV water system:
Add a Spring Fresh Water System Cleaner And Deodorizer to the fresh water tank. Alternatively, you can use a bleach/water mixture. (If you decide to make your own, the ratio for the bleach/water mixture is this: 1/4 cup of household liquid bleach to one gallon of water for every 15 gallons of tank capacity.)
Pump the water through all the water lines and fixtures.
Let it sit for about 4 hours.
Drain the system and flush it out until the water smells (and tastes) bleach-free.
NOTE: These are the general steps for de-winterizing an RV water system, but you should check your owner's manual for specific instructions from your RV's manufacturer.
Camco TastePURE Spring Fresh Water System Cleaner and Deodorizer
&
---
Fill Your RV's Fresh Water Tank
You want to check for leaks in your RV water system.
Fill your fresh water tank, run the water pump, then check each line, faucet/fixture (hot and cold) for leaks.
---
Assess The Condition Of Dump Hoses
As if dumping waste tanks is not bad enough, you don't EVER want to deal with leaking sewer hoses … eww!!!
Learn this lesson the easy way, dump hoses have a limited lifespan and you want to check for holes or tears BEFORE you use them!
Also, make sure the hose clamps are tight … because … if they blow off … it ain't pretty!!!
Take it from me, we learned this lesson the hard way … ugh!!!

Spending a few bucks on a new RV Sewer Hose Kit will make this unpleasant task a little more tolerable!

Camco RhinoFLEX RV Sewer Hose Kit
&
---
Check The Waste Tank Valves
It starts out clear, but eventually the fresh water makes it to the grey or black waste tanks.
Not my favorite part of RV-ing, but that's why my husband wears a super-hero cape in my eyes!

LOL
My hero-of-a-husband has waaaaay too much experience with our black tank … but I'll leave that story for another blog post!
Here's his advice: NEVER check these valves unless you are hooked up to a dump station … then, work the handle in and out to ensure the valve is opening and closing properly.
Check the valves, fittings and seals for leaks. And, for the love of all mankind, don't forget your RV Dump Disposable Gloves!!!
RV Disposable Sanitation Gloves
&
---
Inspect The Caulking
This spring pre-camping season check will help to avoid water leaks as well as intrusions of insects and rodents through gap openings in your RV.
Make sure the caulking is not cracked or missing around windows, vents, air conditioning units, doors and anywhere there is a seam.
Remove old sealant and apply new waterproof caulking where needed.
---
Examine RV And Tow Vehicle Tires And Wheels
Replace tires that have cracks between the treads, sidewall cracks, or any type of dry rot.
Also, inflate the tires to the proper PSI. Check the electric brakes for proper working order.
Make sure the lug nuts are appropriately tight and that you have the proper size lug wrenches for ALL of your wheels.
Be aware, some trailer wheels require special socket types.
For towable campers, check the bearings to see if they need to be re-packed or replaced.
---
Check The Awnings
RV awnings protect from sun and rain, so don't head out for the first camping trip of the season without a good inspection of each awning.
Check the fabric for holes, tears and mold.
Minor rips can be repaired with RV Awning Repair Tape before they become major tears!
You should also roll the awnings in and out to inspect the mechanisms (including the motors if your RV has electrically operated awnings.)
Incom Manufacturing Awning Repair Tape
&
---
Inspect And Charge Batteries
Most RV batteries are the lead-acid type and need to be inspected for fluid levels, terminal cleanliness and general condition.
Disconnect the batteries, inspect them for cracks and clean off any corrosion.
Now, connect the batteries to a charger until they are sufficiently charged.
After you reconnect the batteries to your RV, spay the terminals with a Battery Terminal Protector to prevent future corrosion.
&
---
More Battery Help
If your battery needs a little more than a seasonal inspection and cleaning, we have tips on How To Choose, Use And Maintain The Best RV Battery.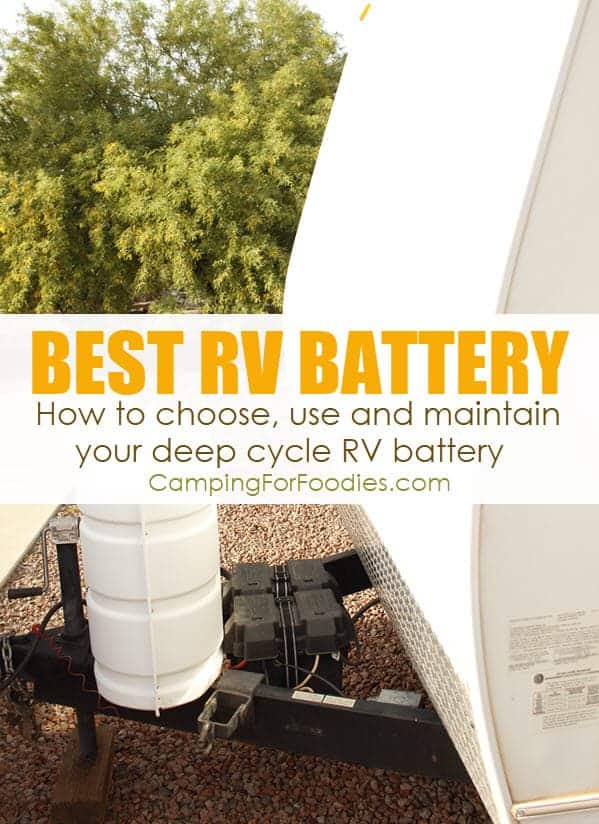 ---
Check The Fluids And Filters In Generators, Engines And Brakes Of Tow Vehicles And Coaches
Whether you are preparing for the camping season in a little pop-up camper or glamorous Class A Motorhome, you need a healthy engine to get you from one campsite to the next on your summer camping trips.
Make sure your fluid levels are topped-off including oil, coolant, brake and windshield washer fluids.
Check air filters and clean or replace, if necessary.
---
Inspect Driving Lights
Getting a ticket because one of your tail lights went dark is a bummer!
Check that your running lights, brake lights, head lights and turn signals are properly working before you hit the road.
Faulty lights are usually caused by burned out bulbs and a fast bulb replacement will be the remedy.
Unfortunately, the failure may be caused from rodents chewing through electrical wires and the repair will be a bit more complicated.
Super Bright Low Power LED Bulbs For Reverse Lights, Brake Lights, Tail Lights, RV Lights
&
---
Examine Your RV's LP Gas System And Appliances
Of these appliances, which would you miss the most if it went offline: heater, stove, oven, hot water heater or refrigerator?
Personally, I HATE cold showers!!!
When you are using LP gas for your appliances, you want to make sure the system is running properly.
Make sure your LP gas alarm is functioning first, then verify all stove knobs are in the off position.
Now, open your RV's propane tanks (one at a time) and notice if you smell the lovely aroma of sulfur … *she said sarcastically*! LOL

But seriously, if you smell propane, you probably have a leak that needs attention.
If you don't smell anything, spray a little soapy water on the valves and regulators to visually see evidence (bubbles forming) of leaks.
If all is good … clean, light and run each appliance that uses LP gas.
---
Test Your RV's A/C Unit
Our summer camping trips usually consist of escaping the Phoenix heat in the mountains of northern Arizona … so, we usually don't need to run our air conditioner.
But, we do inspect it as part of our RV spring preparation for our summer camping trips.
Check that no rodents or birds have nested around the exterior condenser area, make sure the coils and filers are clean, then start the unit and let it run for a while to make sure it is working properly.
---
Check Your Safety Equipment And Replace Batteries
Test your emergency equipment including fire extinguishers as well as smoke, carbon monoxide and LP gas detectors.
If any of your safety equipment runs on batteries, replace them at the beginning of the camping season and pack another set as a backup.
You should also have the equipment we have listed in our FREE Printable RV Tool Kit Checklist, get it and more tips in our blog post!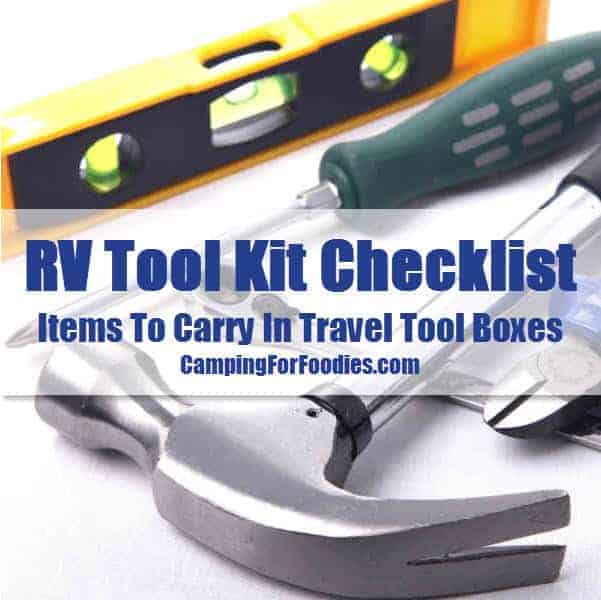 ---
Necessary And Optional Gear Packed
I'm speaking from experience here … it is sooooooooo easy to forget to pack something if you are packing from memory. 
Using our FREE printable Ultimate RV And Tent Camping Checklist will keep you stress-free and having a great time during the summer camping season and beyond!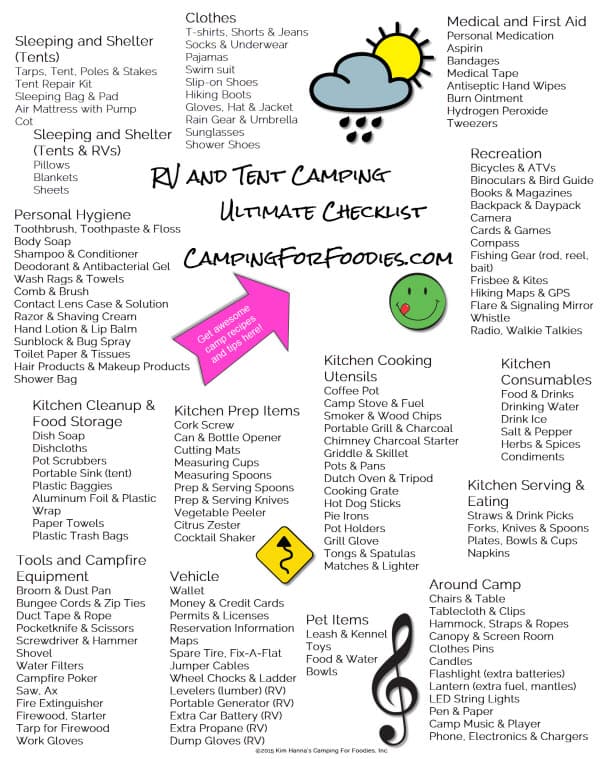 ---
No time to look for recipes, create a menu and write a grocery list? No Problem! Get our 3-Day Dutch Oven Camp Menu Plan here!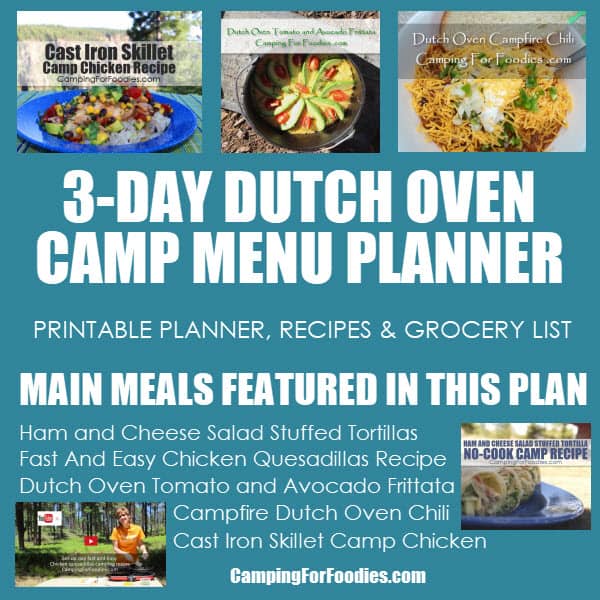 ---
Our Cool Camping Products Make Great Gifts!
Cutting Mat
Mat Set
Shaker Set
Hammock
&
---
If you need camping recipes and menu ideas, you can find them here at the Camping For Foodies Camping Recipes list.
Don't miss a thing…sign up for Camping For Foodies email updates!
Your purchase of our products will help support World Vision ® Building a better world for children.
The post Getting Ready For Camping Season: Tent, Camper And RV Spring Preparation appeared first on Camping For Foodies.