Dudios Tic Wireless Earbuds review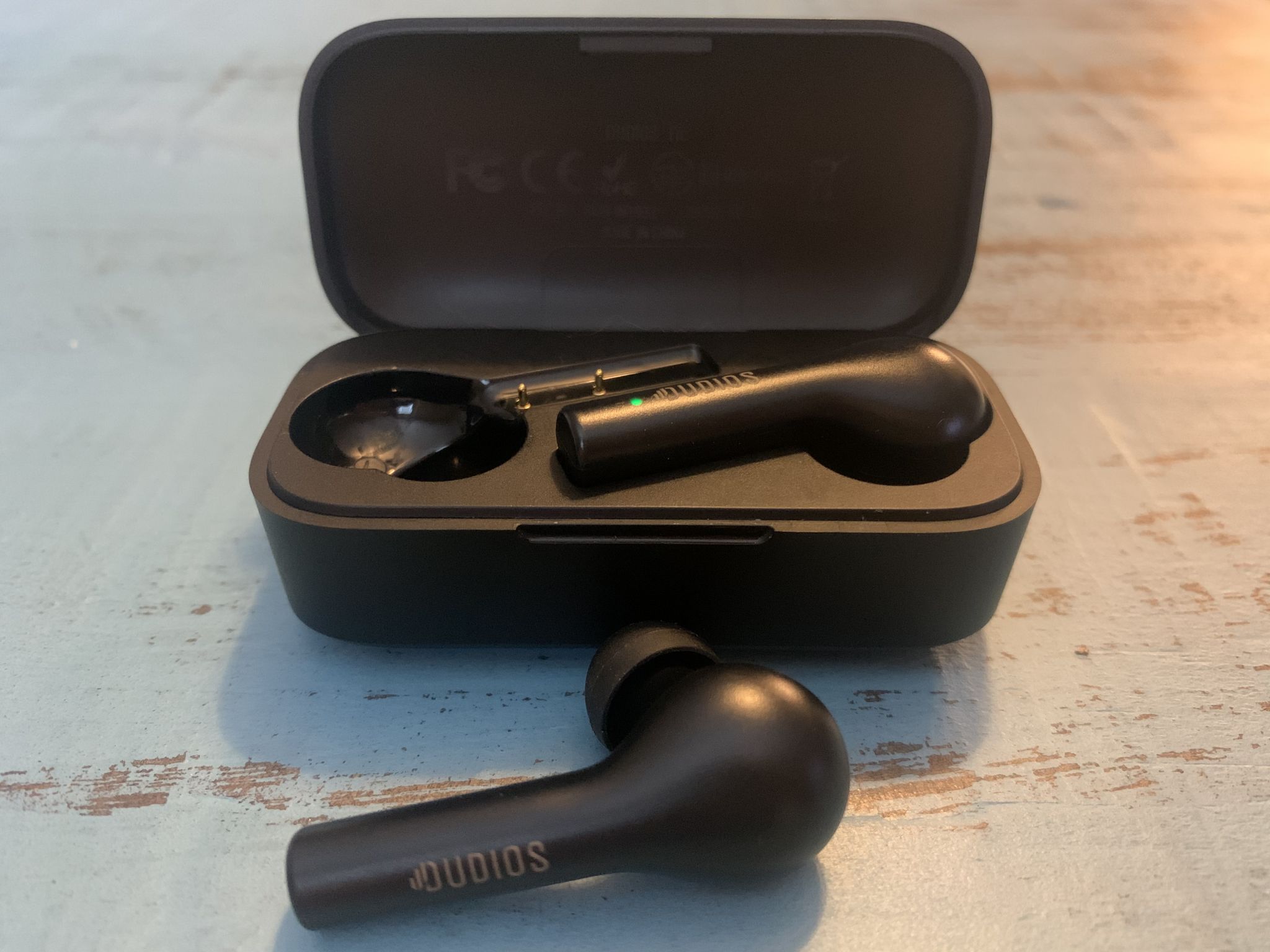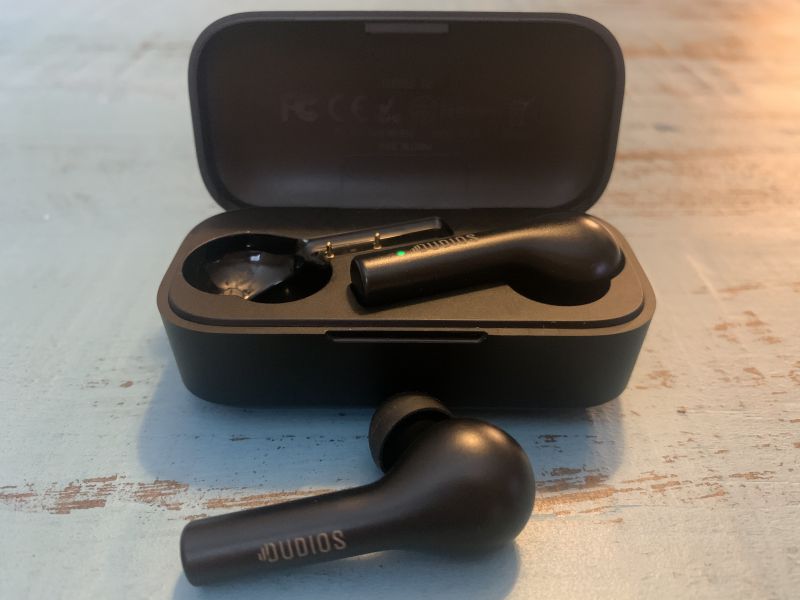 REVIEW – I have been looking into getting some wireless earbuds, especially to pair up with my recently upgraded smartphone.  So, when the chance to review the Dudios Tic Wireless Earbuds became available I was excited to give them a try and share my experience with them.
What is it?
The Dudios Tic Wireless Earbuds system comes with a pair of Bluetooth 5.0 wireless earbuds, with multiple size ear tips for a custom fit and charging case.
What's in the box?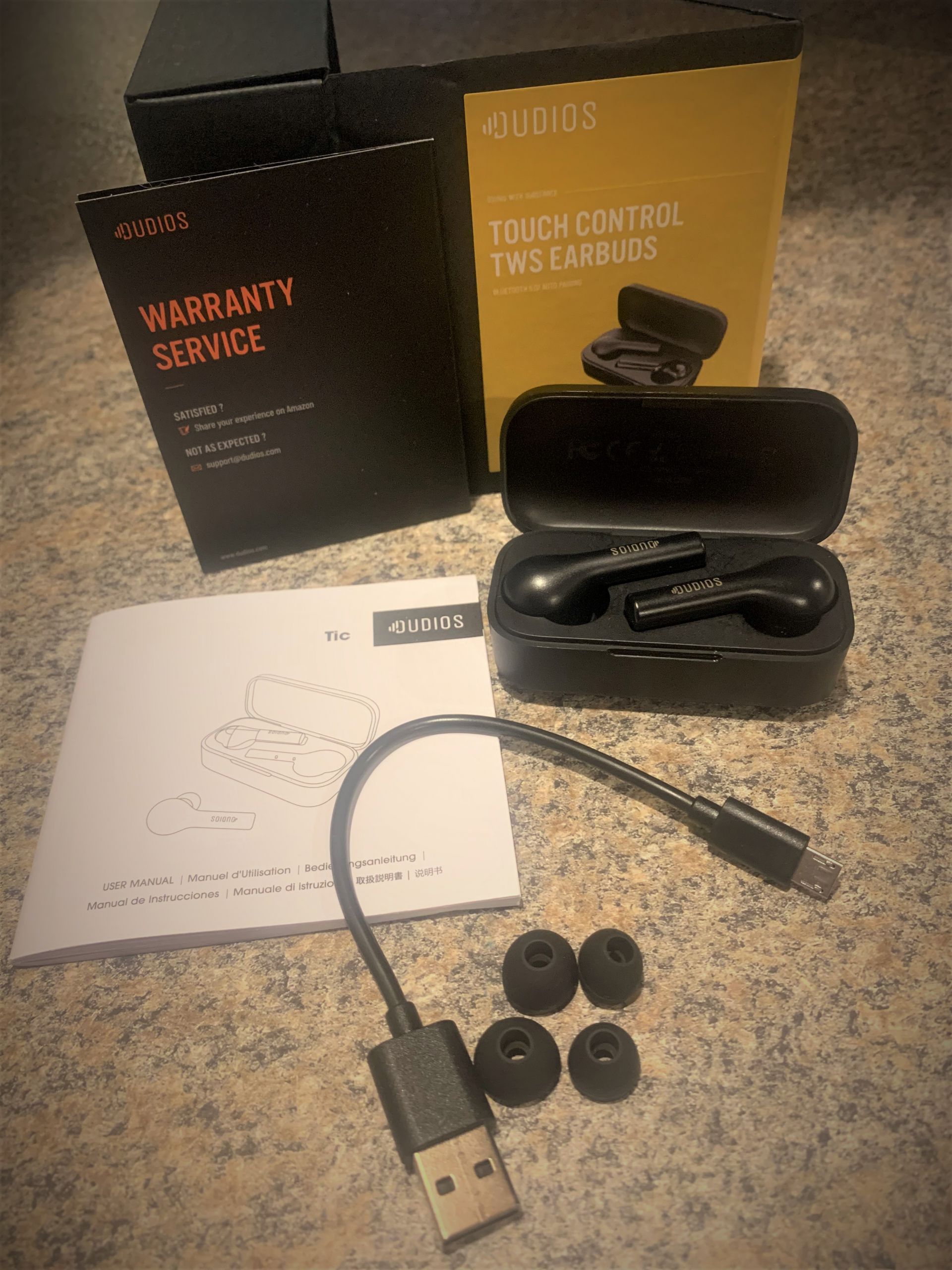 1 Pair Dudios Tic Wireless Earbuds
Charging Case
User Manuel
Warranty Card
Micro USB Charging Wire*
Ear tips – 3 pairs (various sizes)*
*Items were not included in the original shipment.  Contacted Dudios and was quickly sent a replacement that included all the parts listed above.
Hardware specs
Lithium Polymer batteries required (included)
Bluetooth Version: 5.0/cVc
Earbuds Charging Time: 2 hours
Case Charging Time: 2 hours
Case Recharge Times: 4 times
Working Time: 4.5 hours
Working Range: 33 feet (without obstacles)
Mode: Both earbuds can be used as the master
Item dimensions: 1.2 x 0.8 x 0.8 inches
Item weight: 3.2 Ounces
Design and features
The Dudios Tic Wireless Earbuds consist of two parts, the earbuds themselves and the carrying case, which is also the charger for your earbuds.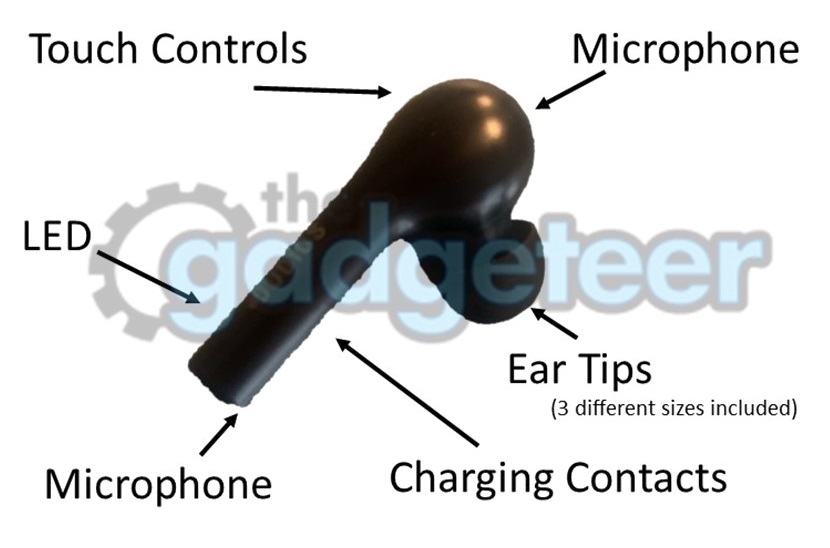 The Dudios Tic Wireless Earbuds are small, light and portable, so you can pretty much take them with you anywhere.  The word small for me is the same as easily misplaced, so I would suggest that you store your earbuds in the provided charging case when not in use.  Fortunately, the case is also small and compact and can be kept anywhere from your counter when not in use to a purse or bag on the go.  Although you could fit the case in your pocket, it would not be comfortable and be quite bulky to carry the earbuds and case around that way.
The provided charging case has a spring-loaded magnetic lid, a great feature so you know when the case is closed it is not going to accidentally pop open in your bag.  Inside the charging case, you will find two molded wells for charging your earbuds. The earbuds fit securely into their labeled wells and contain two prongs for charging.  The USB port for charging is located on the back of the case.  When you order your Dudios Tic Wireless Earbuds it comes with a charging cord, but it is very short, so you will have to keep the case close when charging unless you purchase a longer cable.
The earbuds themselves are made of a black plastic with a sleek matte finish.  Included in your Dudios Tic Wireless Earbuds package is 3 different sizes of silicone ear tips, so you can customize the fit for your needs.  If at any time you find that they are too tight or too loose, you can always try swapping out ear tips.  I personally found the middle size to work best, while my daughter preferred the smallest ear tips.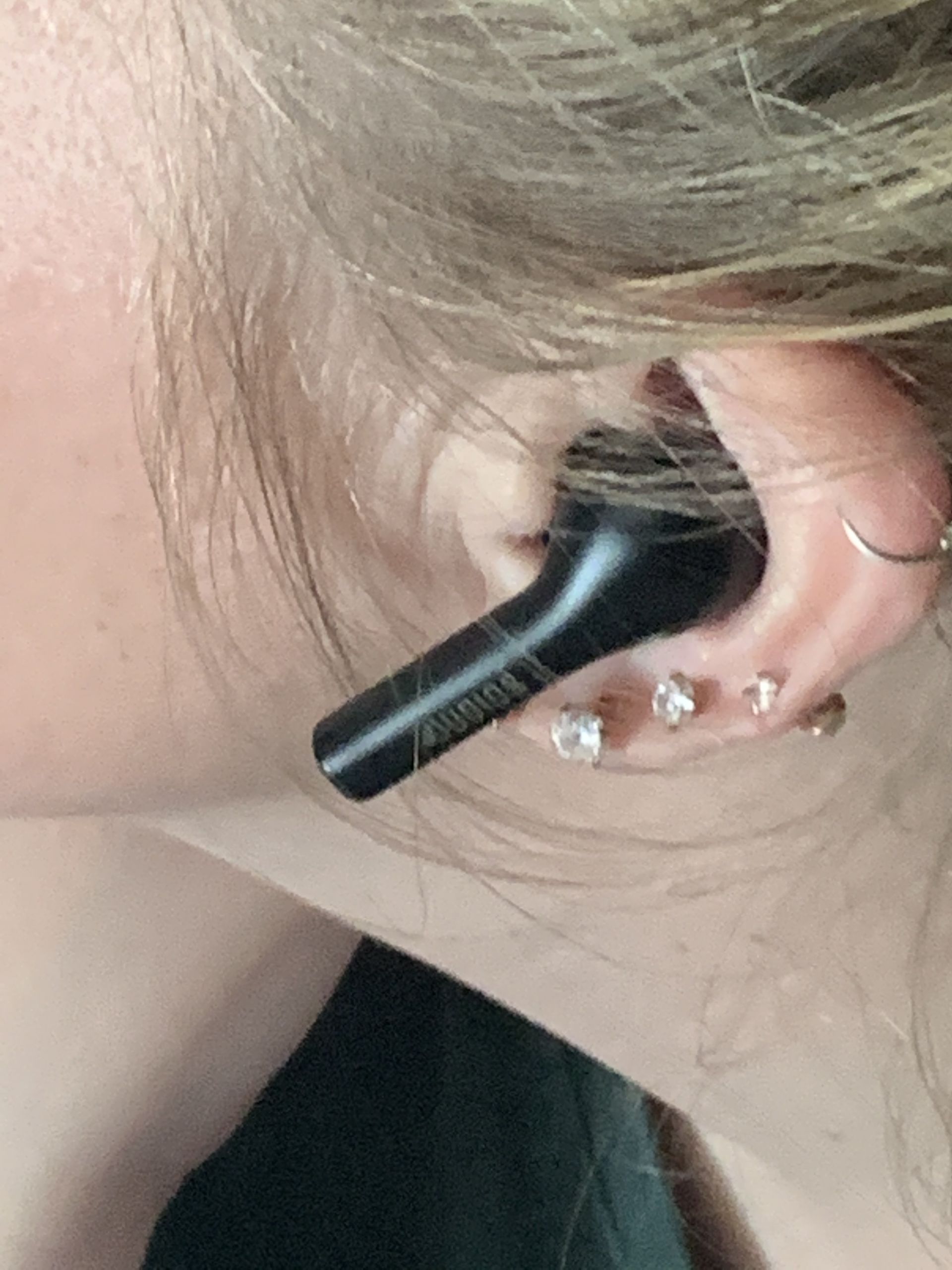 One-step pairing with your smartphone or any Bluetooth device makes for easy and quick use of these earbuds.  You simply take both earbuds out of the charging case and the pairing mode happens automatically.  You will then find "DUDIOS Tic" on your Bluetooth list and connect.  It is truly that simple.  Note that your earbuds will remember previously paired devices, just get them out of the case and they are ready to go.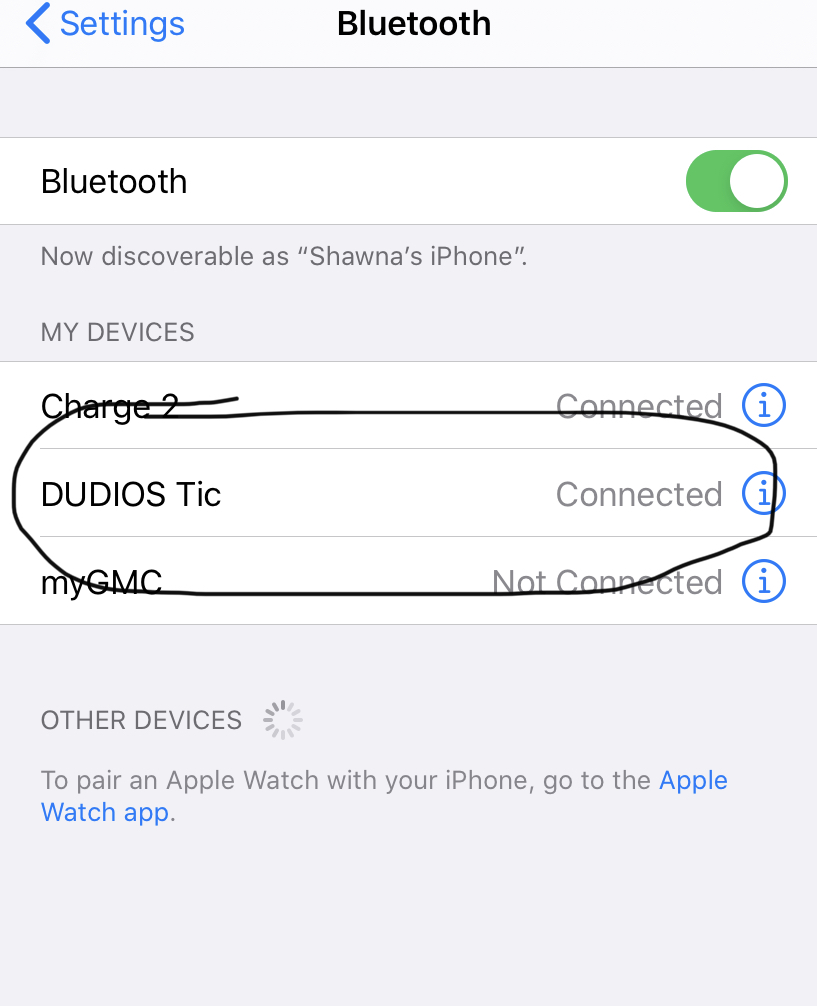 Part of the design of the Dudios Tic Wireless Earbuds is the small LED indicator lights at the base of each earbud.  The LEDs remain off during normal operation, but they do light up when charging and pairing.  While pairing your earbuds, the left earbud indicator light turns off and the right earbud will flash red and green indicating they have paired.   The earbuds are fully charged when LED indicators turn green and turn off after one minute.  I found this feature helpful for letting me know that the earbuds are indeed pairing or charging.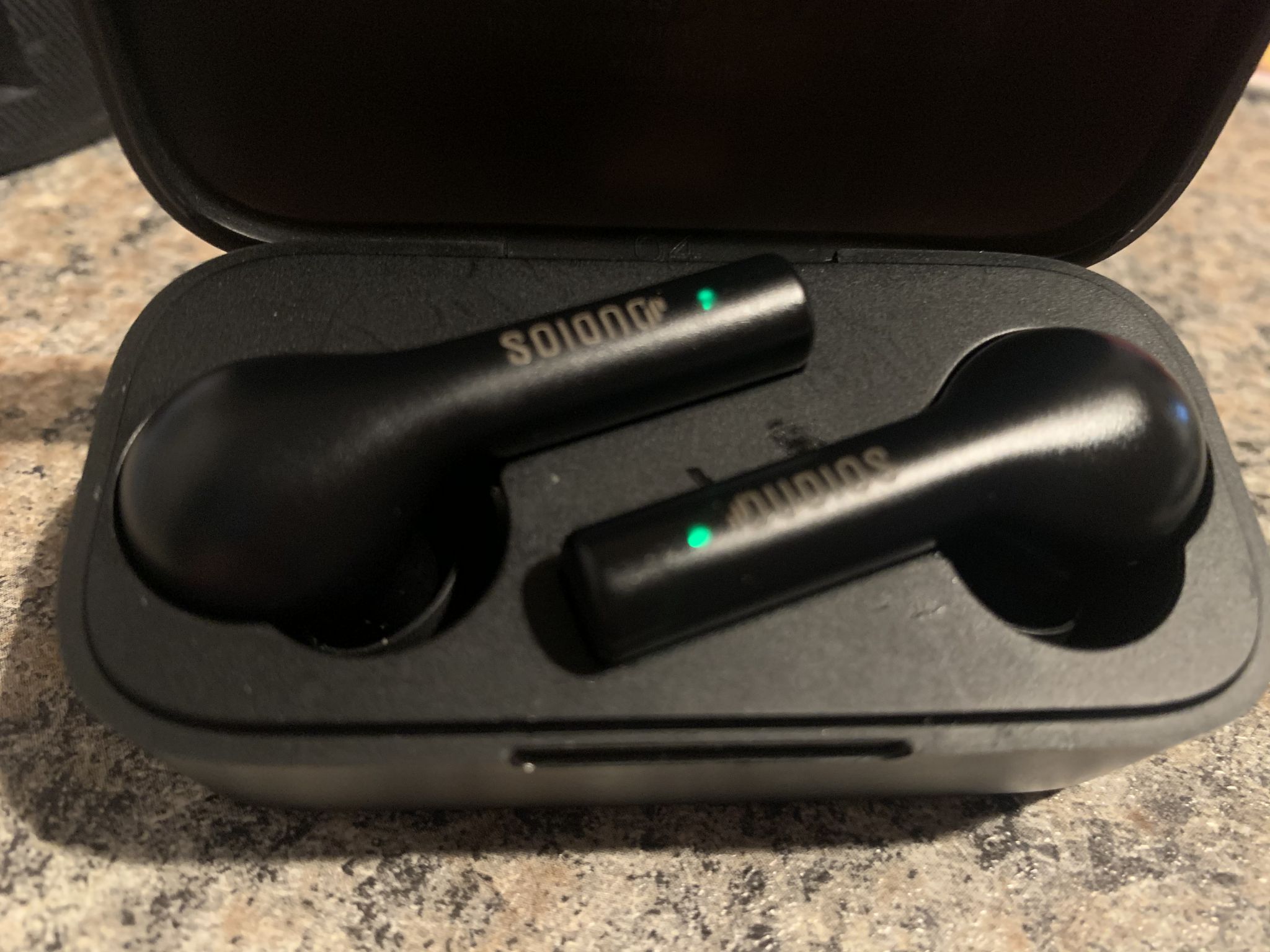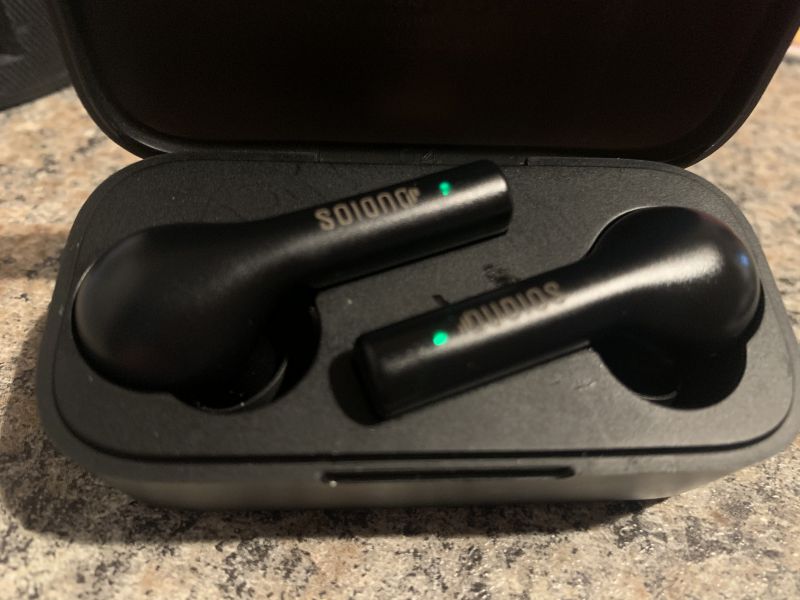 One thing that I do appreciate about the Tic earbuds is that there is no master earbud.  This means that you can easily pair a single earbud, simply by removing it from the case, effectively doubling your battery life.  I don't find a single earbud effective for listening to music, but it is fine for phone calls or listening to all those zoom meetings you are forced to sit thru.  Better yet, when you are ready to return to surround sound (both earbuds), you simply place both earbuds in the case and remove both earbuds and they are automatically re-synced as a pair.
The Dudios Tic Wireless Earbuds feature tap button controls to perform a variety of functions.  The buttons are located on the back top of your earbuds.  This for me was the biggest learning curve figuring out which earbud to press, how many touches, etc.  I find the tap button controls are very touch sensitive and I did find myself accidentally triggering functions without intending to.  There are so many ways to use the touch controls while using your earbuds and the manual provides a nice diagram and description of these functions, I wanted to provide those details here.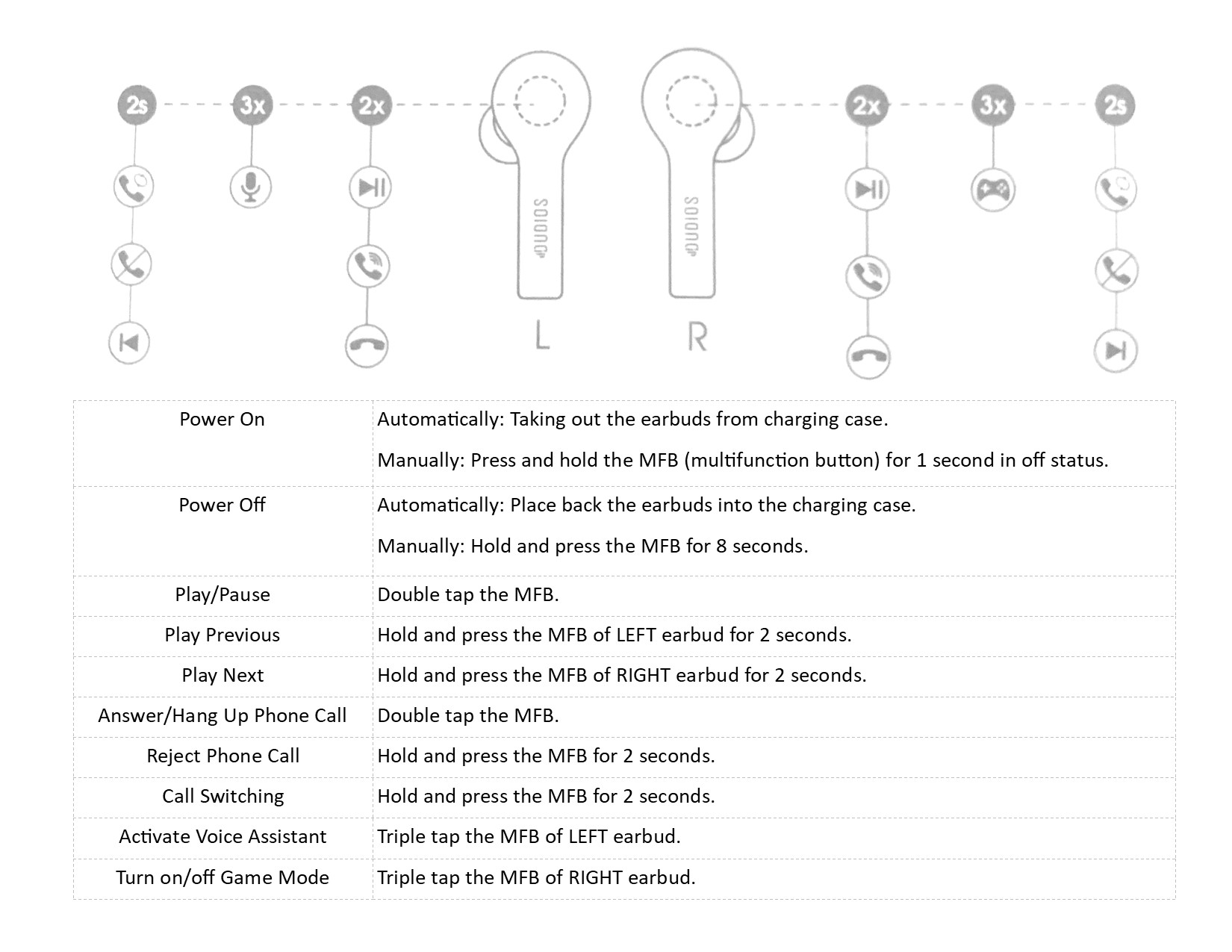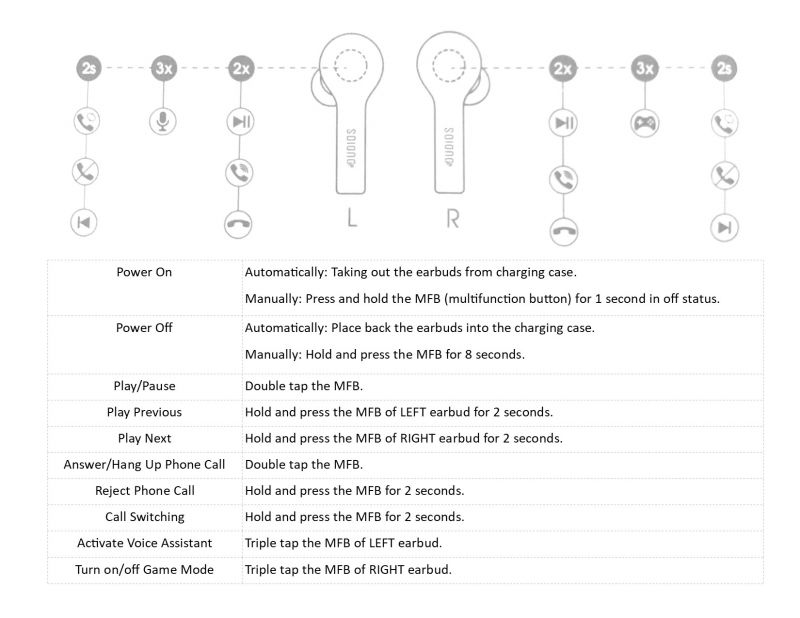 Setup
When you first receive your Dudios Tic Wireless Earbuds, the first thing you will want to do is plug in the charging case with your earbuds in their labeled compartments and fully charge them.  For me, within a few minutes, the LED light indicated that they were charged and ready for use.  This only rings true the first charging.  Going forward you can expect your charging case to take around 2 hours from a totally dead battery to fully charge up.
Performance
Let's talk about one of the most important functions of any earbuds, the sound.  While I found the earbud quality adequate for phone calls, I don't find myself using the Tic earbuds for more than listening to music most of the time.  I found that unless you are in a very quiet environment, the person on the other end has issues hearing you with the mic.  However, what the Dudios Tic Wireless Earbuds lacks for phone calls, it makes up for in audio quality for music.  I found the sound to be clear and crisp and I especially love listening to music with a strong bass.
A unique feature the Tic earbuds offers is its "Game Mode" function.  To access this mode, you triple tap the multifunction button on the right earbud.  This mode is designed for playing games and watching videos without the audio lagging behind the video.  In this mode, you can expect to reduce latency to near zero.  As I mentioned before, I tend to mostly use my earbuds for music, however, I do like the option of the game mode when watching videos and my daughter loved it while she is gaming.  I do need to mention that this function does drain your battery quicker, so you want to make sure that you don't use this mode all the time.
As far as battery life goes, I found what was advertised to be accurate.  The earbuds last around 4 to 5 hours on a single charge and the charging case can provide an additional 18 hours of play time.  I am unsure of what is average for wireless earbuds, but I find it to be an acceptable amount of time between charging.
The last thing that I wanted to test out was the earbud range.  The manual states that the Dudios Tic Wireless Earbuds range can go up to 33 feet without obstacles.  I can say that I left my phone on the couch and was able to walk anywhere in my home and even on my driveway and never lost a connection or experienced any static.  I would say that 33 feet is probably a low estimate and you can probably enjoy your Dudios Tic Wireless Earbuds closer to a 50+ feet distance easily.
What I like
Sleek design
Compact size
Custom fit- multiple sized ear tips
Easily synced with devices
Ability to use earbuds individually
What I'd change
Longer charging cord
Touch-sensitive controls, too sensitive
Final thoughts
The Dudios Tic Wireless Earbuds are small, light, portable and more importantly, effective.  With the 3 sizes of ear tips, I was able to find a fit that I found comfortable and snug for my ears, as I would imagine most people will.  I found the sound quality to be excellent, especially music with a strong bass.  Plus, these earbuds offer the optional game mode, which may set this pair apart from its competitors.
If you are looking for an inexpensive set of wireless earbuds, then I would recommend looking into the Dudios Tic Wireless Earbuds.  Best of all, Dudios offers a warranty, so why not give them a try and see if they work for you?
Price: $35.99
Where to buy: Amazon
Source: The sample of this product was provided by Dudios
Filed in categories: Reviews
Tagged: TWS earbuds
Dudios Tic Wireless Earbuds review originally appeared on The Gadgeteer on May 17, 2020 at 9:45 am.
Note: If you are subscribed to this feed through FeedBurner, please switch to our native feed URL http://the-gadgeteer.com/feed/ in order to ensure continuous delivery.