Mad Max Beyond Thunderdome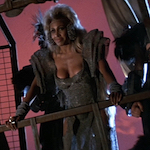 I am a devotee of MAD MAX BEYOND THUNDERDOME. Obviously I love the whole series, some of them even more than this one, but there are many special qualities particular to this installment. I wrote about the movie in 2007 and I think that review does the job of describing many of the reasons it's great. But I really felt like I needed to revisit it both in the context of the Summer of 1985 movie season, and as a movie to watch in 2020, so that's what I'll do in this supplemental review.
July 10, 1985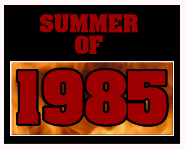 Like all of George Miller's work, THUNDERDOME boldly stands out from other films of its era. Though RAMBO: FIRST BLOOD PART II was the action movie causing the biggest stir at the time, it didn't have anything approaching the inventiveness or filmmaking prowess of the Thunderdome duel or the train-track chase. And yet I don't even think of THUNDERDOME primarily for it's action – it's more like a fantasy film – and in a season that includes RETURN TO OZ and WARRIORS OF THE WIND, it still might be the most imaginative movie of the summer, the most detailed fictional world, the most evocative mythmaking.
It's very much an Australian production, and a continuation of Miller's previous films. The stunt coordinator is the legendary Australian stuntman Grant Page, who we also know from his parts in THE MAN FROM HONG KONG, DEATH CHEATERS, STUNT ROCK and ROAD GAMES. Cinematographer Dean Semler, co-writer Terry Hayes, art director Graham "Grace" Walker (now production designer) and costume designer Norma Moriceau, among others, returned from THE ROAD WARRIOR. But in the four years between MAXes, Miller had some dalliances with Hollywood, and THUNDERDOME does seem aware of its place in a blockbuster landscape largely shaped by fellow TWILIGHT ZONE: THE MOVIE segment director Steven Spielberg and friends. According to the Mad Max wiki, "on one wall [of the Bartertown set], there's a picture of a Gremlin. Not far away, the feed and grain store has a few words painted over its front entrance – 'Proprietor: E.T. Spielberg'."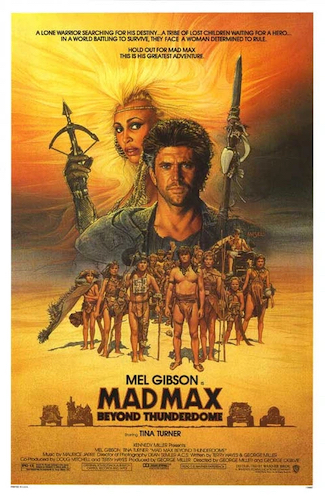 The film's beautiful one sheet was painted by Richard Amsel, who did both the original and re-release posters of RAIDERS OF THE LOST ARK, and it's reminiscent of the Drew Struzan collage style we associate with the great blockbusters of the era. Along with the two leads, it depicts The Lost Tribe – primitive kids wearing furs, holding spears, performing primitive rituals and group storytelling, later to swing on ropes and fight a superior army – who certainly have a few things in common with George Lucas's Ewoks.
And there are a few little touches that kind of connect it to trends of the '80s. We got kids going down an underground slide – not a waterslide, but still kinda GOONIES-esque. There's a scene where somebody gets knocked into a giant tub of pig shit, which relates to RAPPIN's crash into a garbage truck and BACK TO THE FUTURE's crash into a manure truck. Surprisingly this is the only Summer of 1985 movie I've come to so far that has quicksand in it. Quicksand was a major concern of young people in the '80s. It's actually shocking that there's not any in GOONIES. What in the hell were they thinking?
Okay, those are frivolous details, but a definitively 1985 touch is the use of movie-specific Tina Turner songs on the opening and closing credits. None of the other three MAD MAXes include pop songs, but this was an era when hit soundtracks were highly coveted by studios. The previous two years had seen FLASHDANCE, SCARFACE, RISKY BUSINESS, FOOTLOOSE, BEVERLY HILLS COP, GHOSTBUSTERS, THE WOMAN IN RED and the peerless PURPLE RAIN. Already this summer we've had THE GOONIES with its two Cyndi Lauper songs and BACK TO THE FUTURE with its two Huey Lewis & the News songs. Of course, THUNDERDOME has the additional novelty of its A-list music artist co-starring in the movie – her only real acting performance outside of the Acid Queen in TOMMY – and doing a great job.
"We Don't Need Another Hero (Thunderdome)" came out as a single the same week as the movie, and became one of Turner's biggest hits. On the Billboard charts it peaked at #2 (under the theme from ST. ELMO'S FIRE). That was September 14th, so Mad Max was on pop culture's brain for months!
The video got endless MTV play. Directed by Miller, it's mostly Turner in costume as Aunty Entity, standing on a lighted disc, floating in a black void, hosting a montage of clips from the film. In the first shot we get a good look at Aunty's silver high heels covered in chain mail. Turner's shirtless saxophone player Tim Cappello (not Aunty's movie saxophone player Ton Ton Tattoo, played by Andrew Oh) shows up for the solo. At the end when she says "All the children say" there's a choir of children beneath her feet. They look like the Lost Tribe, except they're wearing normal black clothes rather than rags or furs.
I like the song, but I actually prefer "One of the Living," which plays during the opening credits. That one made it to #15 in November. I never knew it until a random record store discovery last year, but there's a 12" single that includes a "Dub Version" and a 7:35 "Special Club Mix by Steve Thompson & Michael Barbiero."
THUNDERDOME is the only MAD MAX movie to be rated PG-13 (as opposed to R), but I haven't been able to find any information about whether this was an intentional audience-widening attempt by Miller or Warner Brothers. If so, they didn't cash in by merchandising for children – though the movie could've made for some pretty cool STAR WARS style toys. (Miller doesn't seem interested in that sort of thing – he allowed very little merchandising for FURY ROAD in a time when Furiosa collectibles could've made a killing.) The one thing I've discovered that's marketed at children is one of those photo-illustrated storybooks, written by Ann Matthews, whose other works included children's books based on The Transformers, THE JOURNEY OF NATTY GANN, and Punky Brewster. Otherwise they just did the basic blockbuster tie-ins: a novelization by sci-fi author Joan D. Vinge (a.k.a. J.D. Vinge, as she was credited on the RETURN TO OZ novelization earlier in the summer) and an Official Collector's Edition Souvenir Magazine.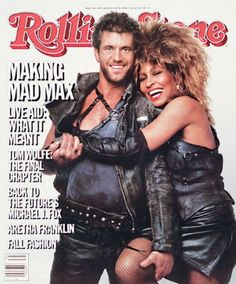 But the Turner songs helped the movie get a cover story in Rolling Stone, and showed Warner Brothers' intentions to make THUNDERDOME a legitimate cultural event. The studio opened it on more screens than BACK TO THE FUTURE (which it came in second place to), with 70mm prints in some cities. It did okay – 24th at the 1985 worldwide box office, above COMMANDO, DAY OF THE DEAD, SILVERADO, TEEN WOLF and THE LAST DRAGON. Looks like that was about three times its budget, so I'm sure with the soundtrack and then video and TV and stuff it did its job.
I didn't see the MAD MAX movies until I was older – I just remember the theme song and the concepts of Thunderdome and Master Blaster seeping into the popular consciousness. I suspect it was only years later that it began to develop a reputation as the not-as-good one. I couldn't find a Starlog review as a sample of the contemporary genre fan response, but Thomas Doherty praised it in Cinefantastique. Though he describes the climax as "succumb[ing] to generic expectations with a perfunctory chase scene" he praises even the less popular elements ("With Max's entry into the kiddie oasis, THUNDERDOME moves from engrossing to magical") and concludes that it's "a remarkable film fully deserving of any overused superlatives and four-star ratings pasted on its advertising… BEYOND THUNDERDOME is no mere sequel lunging forward on inertia alone, the latest Mad Max is an enchanting continuation of an authentic modern saga."
The ads did in fact have plenty to work with, and chose to quote Roger Ebert ("AN INCREDIBLE, EXCITING AND ORIGINAL ACTION EPIC that I think is one of the best films of the year"), Pat Collins and Gene Siskel. Michael Wilmington in the Los Angeles Times called Miller "chaos' poet" and compared him to John Ford, Howard Hawks and Akira Kurosawa. Richard Schickel of TIME called the movie "an astonishing display of virtuoso cinema." Candice Russell in the South Florida Sun-Sentinel called it "everything that fans of the futurist road warrior could hope for and more… as exhilarating as a roller coaster ride." Paul Attanasio in the Washington Post was one of the few to consider it "a sort of case history of just what's wrong with sequelitis," under a headline labelling it "Boring to the Max." He at least had a good line for his claim that Turner's performance is too dignified: "You want King Kong Bundy, but she gives you King Lear."
Over time it seems to me the consensus on the movie became less glowing than what most critics said at the time. I think the critics were right, of course. It's more clear now than ever.
THUNDERDOME IN 2020
"What you look for in films is not a reflection of things, but their essence. Films, in many ways, are closest to poetry, where you always try to get the maximum amount of meaning in the minimum number of words. With film, you try to find the maximum amount of meaning in the minimum number of images." —co-writer Terry Hayes interviewed in Starlog, October 1985.
For years I would talk about the brilliance of THUNDERDOME to people who hadn't rewatched it in forever, and they would say it was the weakest one, they didn't like the kids, not enough cars, etc. And before I could get very many of them to see what I and those 1985 critics saw in it, Miller threw a wrench in the works by making FURY ROAD, building on much of THUNDERDOME's greatness, with even more spectacular results. Since a full five years have passed and I may have watched it more times even than ROAD WARRIOR, I don't have to hesitate in saying I consider FURY ROAD the best of this uniformly excellent series. So it casts a giant shadow over THUNDERDOME. How ya gonna keep 'em down in Bartertown after they've seen the Citadel?
If you break it down, the two films have very similar structures. They start out with Max traveling through the desert, destination unknown, being ambushed, his vehicle stolen. He ends up inside a heavily fortified settlement where his vehicle is being taken apart. After some scuffles he escapes into the desert. Eventually he comes upon a tribe of warriors, in this case all children instead of all older women. He reluctantly decides to help them with a plan that involves going back to the settlement. There's a climactic chase scene where he battles alongside the people he's met and he gets them what they want, but then goes off into the desert on his own.
Of course, FURY ROAD does all this bigger, faster, more exciting, more moving, more incredible. It tops THUNDERDOME. But let us honor THUNDERDOME as the pioneer, the o.g., and for its distinct features like the alternately dishonorable and honorable Aunty Entity, the temporarily powerful duo of Master Blaster, the shattered language of the Lost Tribe, and Max's acceptance of self sacrifice – all things we encounter because of Max's interlude as a pedestrian, and that continue to take on new depths of meaning as we head toward our own Pox-eclipse.
The existence of FURY ROAD is one reason you can't help but see THUNDERDOME a little differently these days. Another is these god damn times we're living in. Like FURY ROAD, the thrills and mythology of THUNDERDOME are built onto a meticulously-thought-out world that says much about our own. FURY ROAD felt of-the-moment partly because its themes are timeless, and the same is true of THUNDERDOME. It reaches 35 years into its future to a time when we have new analogs for everything. Even the innocent Lost Tribe remind me of something different now. They're a culture of young people with plenty of information, but little expertise, so they turn the little bits of passed down knowledge into convoluted false histories and superstitions. Yep, we've seen some of that. Imagine what the Lost Tribe could've figured out about Captain Walker if they'd pored through WikiLeaks email drops!
To me one of the most observant parts of the movie is the chants of Bartertown. They have these brutal laws that people go along with in part by chanting their slogans – "Two men enter, one man leaves!" and "Bust a deal and face the wheel!" Chants are easy to recite as known fact, rather than something to think about, to question, to react to as a human being. You can just accept it.
I couldn't stop thinking about "bust a deal and face the wheel" during the 2016 election, when the world was introduced to Trump rallies. An entire segment of this country, not a majority, but probly made up of more people than watch whatever your favorite TV show is, were happy to chant "LOCK HER UP," absolutely for real believing that their future president should have the unilateral power to jail his political opponent for vague, varied, unspecified fictional crimes and conspiracies. They still believe it today and will still chant it about her or any other woman they're told to. It's real. It's here. We are not beyond Thunderdome.
Everything about Bartertown seems a little deeper in the midst of the discussions we've been having as a result of the growing movement to rebuild society and protect Black lives. The movie doesn't address race at all, but it certainly deals with a system that is built on injustice and results in needless pain and death.
At the top of Bartertown, both literally and figuratively, is Aunty Entity. She's a great character full of nuance, who clearly has been through some struggles, and who's got enough non-evil in her to let things go at the end, and even laugh about it. But when she says she's "up to my armpits in blood and shit," that's no joke. I don't think she got this job (or kept it) through peace and love. She lives in her penthouse dangling above the citizens and tourists, who themselves live above Bartertown's most valuable asset: the people who work underground in the dark, shoveling pig shit to harvest for methane. Master is down there bossing them around, and he feuds with Aunty, but it's not really a labor dispute because he's not looking for better conditions for his workers. And many of them are prison labor, living in the shit farm, shackled at the neck.
What did they do to get there? We only have one example: Pig Killer (Robert Grubb, GALLIPOLI, PHAR LAP) received a life sentence for killing a pig to feed his family. That's not against the law for animal rights reasons, I'm guessing. Basically, he stole a loaf of bread, so he's enslaved for life, when the system works as designed. Steal the swine, work the mine. That's the law. You gotta follow the law.
It wasn't until two viewings ago that it struck me who enforces that law: people wearing mohawk wigs and football style shoulder pads with black feathers attached. They look like they're cosplaying Wez. Basically, the psychotic #2 bad guy from ROAD WARRIOR is now the model for the cops. That's how this stuff escalates: what once was once tyranny has become normalized, even institutionalized.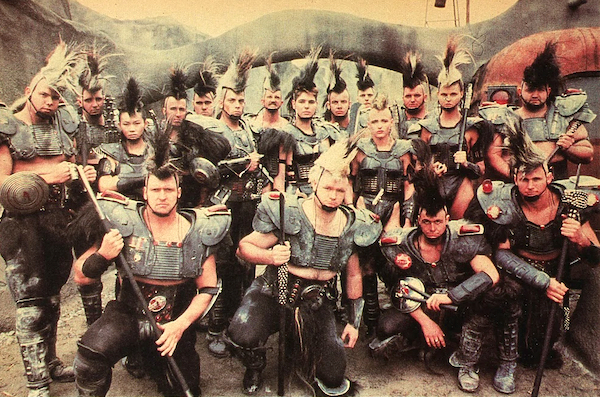 In place of a court system, Bartertown has Thunderdome. And of course Thunderdome is not free from corruption. Aunty wants Blaster killed to consolidate her power, but she doesn't want her fingerprints on it. She has to hire Max, a ringer, and act like she has nothing to do with it. "We are dealing with subtleties here," explains her stooge.
She still considers it a fair fight "as provided by law." The philosophy of this justice system is that "Fighting leads to killing, and killing gets to warring. And that was damn near the death of us all… Now when men get to fighting, it happens here. And it finishes here. Two men enter, one man leaves."
Almost sounds good, right? We have to kill some people so there won't be wars! And we have to wage war on neighborhoods so there won't be murders. Send a bunch of geared up commandos after people somebody thinks might be carrying drugs, loitering, speeding, sleeping in a car, passing a counterfeit twenty, selling a loose cigarette, acting suspicious, resisting arrest. Any allegation of possible infraction, large or small, must be dealt with by people trained and equipped to end human lives at a moment's notice. Just in case that comes up.
That's what this is – it's Thunderdome. It's the inability to imagine a solution other than savagery. B-b-but… two men enter, one man leaves! What, you want both of them to leave? We can't just let people leave all the time. You're crazy!
According to the script, Bartertown is "broken down and very medieval, but to Max it's the closest thing to civilization he's seen in twenty years." There are legitimate merchants, blacksmiths and bars. There's methane to keep the lights on. So people accept Thunderdome. It's easier that way. But that doesn't make it right.
Max, of course, has grown into a character who can't help but stand up for what's right. Never wants to, always does. In articles from the time, Miller, Mel Gibson and co-writer Terry Hayes all refer to Max as a "closet human." In THUNDERDOME he has three major moments of heroism: when he refuses to kill Blaster, when he goes to find the kids who have headed out into the desert, and when he drops from the plane so the others can get away. But there's a less consequential moment that really hit me on this viewing. When he decides to join Savannah Nix (Helen Buday, DINGO) and the other Lost Tribe kids on their expedition, there's an even younger kid who catches up with them, apparently having chased Max since leaving the camp. Max reluctantly lets him join the group but says, "He holds his own, okay?"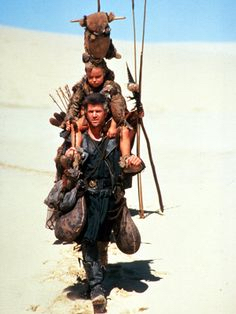 From there it dissolves to later, as we can see the crucified teddy bear that the boy has attached to his back rising up from the horizon. And as he comes into view we see that he's not being forced to "hold his own" – Max is carrying him shoulders.
That's Max condensed into one edit. He talks a good game about the harsh realities of the world of blood and fire. He wants to look out for #1, be left alone, mind his own business, not get involved, stay out of it. But he always ends up helping – the oil refiners, the lost kids, the wives – because that's who he really is. It's a classical archetype, frequently used by Clint Eastwood as well, and I think it's something that some people overlook when they try to use the films of badass cinema to support their macho tough guy tough shit bootstraps bullshit. Compassion is not the antithesis of badassness. It's a key element.
For its time, for this time, or for any time, MAD MAX BEYOND THUNDERDOME is one of the greats.
The post Mad Max Beyond Thunderdome appeared first on VERN'S REVIEWS on the FILMS of CINEMA.