7 Standout Jewish Cookbooks for Kids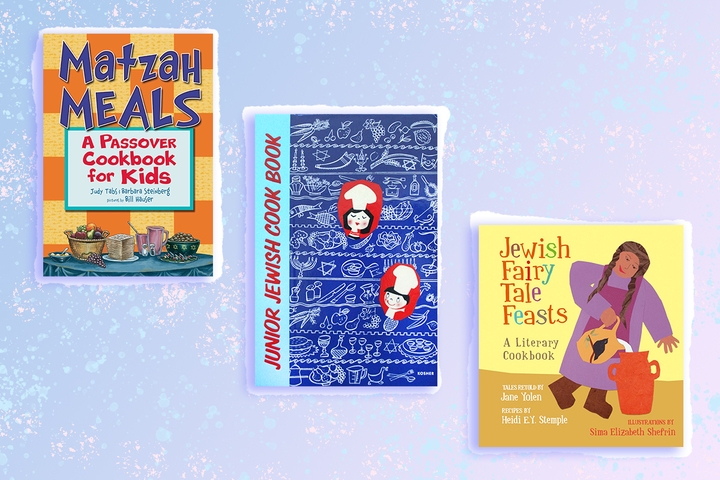 Cooking a lot more at home these days? We thought so. Spending more time with the kiddos lately? Us, too. If you find yourself struggling to prepare supper every single night with your children underfoot (perhaps the understatement of the year), here's a thought: don't fight it, invite it.
Instead of finding ways to keep your kids busy while you prepare meals, take the opportunity to teach them about their culinary heritage. Channeling their endless energy into some lessons on how to cook some classic and even a few new Jewish dishes. (Added bonus: Keeping them busy will also quell those ubiquitous "I'm HUNGRY!" cries.)
Given that you're probably burned out from the long months of homeschooling, a kid-friendly Jewish cookbook can be an effective way of outsourcing the teaching for a while. Here are seven standout Jewish cookbooks for kids.
1. The Children's Jewish Holiday Kitchen by Joan Nathan
With more than 70 recipes for both major Jewish holidays (Passover, Yom Kippur) and minor (Tu B'shevat), plus sample menus and biblical references, this book is your comprehensive gastronomic guide for creating memorable celebrations, or just spicing up any old Tuesday with an impromptu fancy repast. Noteworthy dishes include Dreidel sandwiches, farfel with cheese, and apple-honey cupcakes, and many recipes are preceded by charming epigraphs with stories from the author's childhood. Some of the trickier techniques — like kneading kreplach dough — are made easier to understand via adorable cartoon illustrations.
2. Junior Jewish Cookbook by Aunt Fanny and Marlene "YaYa" Spieler
The OG of Jewish cookbooks for children, the Junior Jewish Cookbook has been a go-to manual for ambitious young chefs since 1956. The prose is designed to read as if your bubbeis standing over your shoulder gently coaching you on just the right way to stir that soup — and added bonus when so many families are apart due to the pandemic. Although the original version relied heavily on canned ingredients and temporally popular foods (case in point, a "trendy" Queen Esther Purim salad made with pineapple in syrup, almonds, raisins, and cottage cheese, updated editions include an entire section on more modern dishes.
3. Matzah Meals by Barbara Steinberg
This compact compendium is perfect for young cooks just beginning their culinary education, and though the recipes are primarily Passover-themed, many are also suitable year-round. Parents will appreciate the straightforward directions, and kids will take pride in making their own potato pudding, salami latkes, and meringue kisses. All recipes are flanked by helpful symbols designating their status as dairy, meat, or parve, and ingredient substitutions are provided for those who keep kosher. And Steinberg doesn't stop at just cooking for the seder; she also includes instructions on how to set a proper table as well as ideas for Passover.
4. Jewish Holiday Cookbook by Jill Bloomfield
Though not explicitly a "children's cookbook," this tome is more than suitable for culinary newbies of all ages due to its straightforward language. The 40 recipes encompass Sephardic, Ashkenazic, and nouvelle Jewish fare for 11 different holidays and are buttressed by striking photographs. Not-so-traditional spins on standards — for example, sufganiyot stuffed with cheese instead of jelly — are great for the rebel foodie tween in your life who is eager to break, well, just about any rule. We recommend springing for the spiral-bound edition of this book to facilitate flipping back and forth when you need a refresher on the measurements.
5. Kosher By Design: Kids in the Kitchen by Susie Fishbein
The brilliant photography makes this no-nonsense yet lighthearted cookbook a feast for the eyes, one that will whet the appetites of children and adults alike. It begins with a handy chapter on the fundamentals of keeping a kosher kitchen, then segues into sections organized by courses (soups, salads, appetizers, entrees, desserts). Type A caregivers will also relish the Fishbein's format, which involves specifying all necessary ingredients and equipment in separate lists before the actual recipe text. Prepare for her pumpkin custard and Asian wonton soup to become new family favorites. And pro tip: Fishbein's blueberry banana bread is fine and dandy on its own but a total game changer as a base for peanut butter and jelly sandwiches.
6. Jewish Fairy Tale Feasts: A Literary Cookbook by Jane Yolen and Heidi Stemple
Written in collaboration by a real-life mother (Yolen) and daughter (Stemple), Jewish Fairy Tale Feasts is a delightful collection of illustrated Jewish folk and fairy tales accompanied by related recipes, like pomegranate couscous and matzah lasagna. The pages combine colorful collages with historical/reference marginalia in a manner that's beautiful and not too busy. Some recipes may require adult supervision, such as those that involve a hot stove, like shakshuka. But in those instances, the end product is worth the parental effort! This book is especially terrific for imaginative children who double as aspiring writers and cooks, as Stemple and Yolen encourage their readers to add their own original twists, turns, and endings to classic stories.
7. Let My Children Cook! A Passover Cookbook For Kids by Tamar Ansch
Containing creative, easy-to-follow instructions paired with whimsical illustrations, Let My Children Cook! is a lovely way of allowing youngsters to develop their own culinary traditions around Passover, as well as "practice" year-round by honing their skills. Ansch places a heavy emphasis on safety, cleaning up after yourself, and, most importantly, having FUN, so high-fives all around for kids and parents! There are more than 75 recipes for crave-worthy snacks like Crunchy Chicken Crisps and Matzah Marshmallow Melts as well as more creative desserts, like strawberry "snow" (sorbet). Although the featured recipes are clearly designed for the pediatric palate, adults are likely to find themselves stealing nibbles from their children's plates.
Header design by Kveller
The post 7 Standout Jewish Cookbooks for Kids appeared first on Kveller.